Show hierarchy for filtered cards
in progress
Filtering of any type in backlogs hides hierarchies, removing important context. There should be a Show Hierarchy switch on the filter menu that shows parent and child hierarchy levels, with those rows with grayed backgrounds if they would not have otherwise been returned by the filter.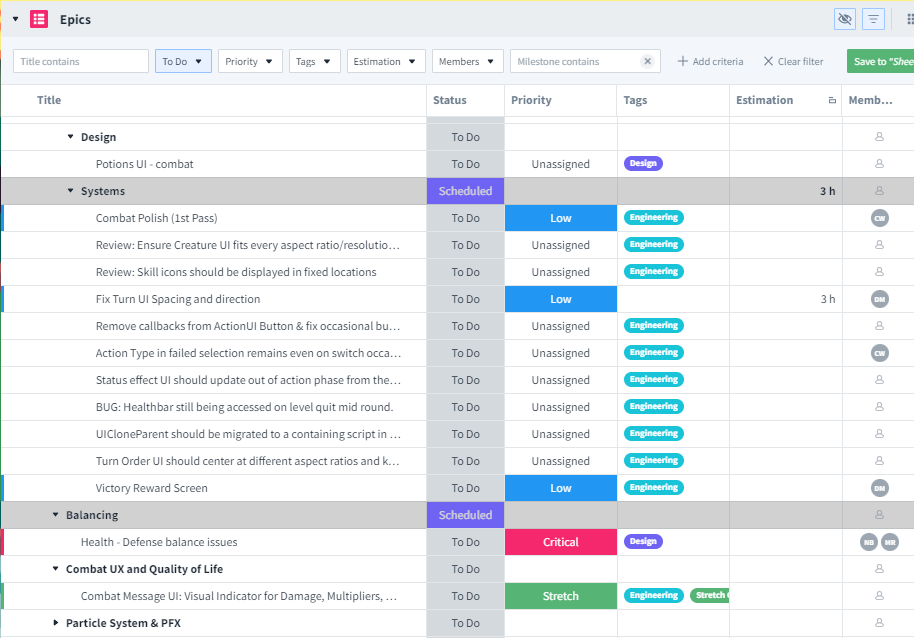 Merged in a post:
Can't see dropdown of dependencies when filters are active in sheet view
Julie de la Kethulle de Ryhove
When I'm in sheet view, and I have no filter active, I can see little arrow to collapse/show all cards. That allows me to see all the child cards that are sorted underneath a parent card.
When I activate a filter (status > filtering out all 'recurring/repository' cards), I don't see the arrows and the hierarchy of the parent vs child cards anymore.
Pls fix?
For context:
I'll describe shortly how I particularly use this.
I use the kanban view on most days. When I plan my sprint at the beginning of the week, I drag in stuff from my backlog. That makes it messy and requires cleanup - so I go in sheet view, and assign some cards to parent cards.
Then I can easily see the big picture.
I suspect I am using it wrong, or can use another feature for this though... Suggestions welcome. Ideally, I'd like to see some sort of hierarchy in kanban view as well, but all I know so far are dependencies. Might be useful to use sub-boards or smth like that, but unaware of other features that provide the capabilities I need so far.
marked this post as
in progress
Merged in a post:
Keep sheet order when applying filters
In the sheet view, I have my cards organized in both priority and categorization. However, when I click the filter button the cards are immediately displayed as a flat list, in a completely different order!
Please add an option to preserve the card's ordering and nesting levels when applying filters.
Merged in a post:
Supporting nesting in Views/Filters
I have a large product backlog view with nesting (3 layers of hierarchy) in a sheet view. I have added custom fields to filter the product backlog based on an index (time, area, team, etc.). When I filter the backlog, it removes nesting and lists all of the items in the hierarchy in a flat list. I would really like to be able to see hierarchy and filter/make a custom saved view of that all in the same board.